Latest topics
»
New Area for GTA
by
richdoc
Sat Sep 28, 2013 6:29 am
»
BF3 Endgame: Sabalan Pipeline Live Commentary with Luetin
by
novahob
Wed Apr 24, 2013 5:24 am
»
December Soldier Upgrade available for all Premium members
by
Berty1977
Sat Dec 08, 2012 1:23 am
»
Battlefield 3 Aftermath: Complete Review with Luetin
by
LUMPY SICK
Tue Dec 04, 2012 10:28 pm
»
Battlefield 3: XBOW Weapon Guide
by
Berty1977
Sat Dec 01, 2012 11:27 pm
»
Battlefield 3: Aftermath DLC Initial overview with Luetin
by
Spocksgoat
Sat Dec 01, 2012 12:41 am
»
Battlefield 3 Aftermath: Scavenger First Look (BF3 Gameplay/Commentary)
by
LUMPY SICK
Wed Nov 28, 2012 11:32 pm
»
144 hours of double XP next week
by
LUMPY SICK
Sat Nov 10, 2012 4:02 am
»
New server update on all formats November
by
LUMPY SICK
Wed Nov 07, 2012 10:54 pm
»
Halo 4 / Halo in general
by
novahob
Tue Nov 06, 2012 7:15 am
thinking about ordering this next week what do you guys think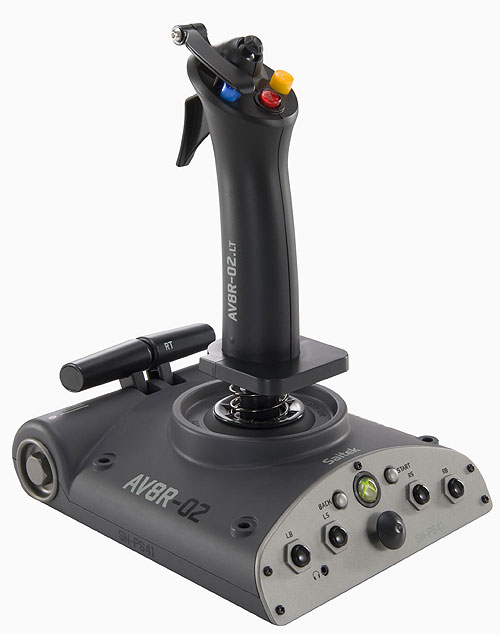 ]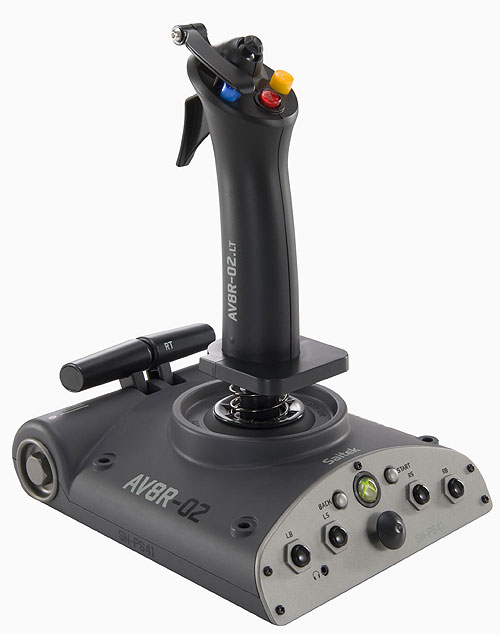 [/url]
Get on your enemy's 'six', chalk up another kill and rule the skies
with the Saitek Aviator – the best way to play flight games on your Xbox
360® and PC.
The Aviator gives you total accuracy and complete control,
improving the way you play air combat games, heightening realism and
enhancing gameplay.
Important, it should be noted that this is primarily an
XBox 360 console joystick that is configured with defaults that cannot
be changed. It will work on your PC but you cannot change what each
button does.






3 buttons, heavy duty trigger and POV analog stick


2 buttons, Start and Select and D-pad


Dual mode switch - changes control layout to support different games

Communicate with your wingmen online with integrated Xbox Live® headset connector


Large, flat base gives total stability






System Requirement:


Connectivity: USB 1.1/2.0
System Requirement: Xbox 360®, Windows XP, XP64 and Windows Vista (all versions)


Works great with:
Tom Clancy: HAWX
Blazing Angels
Blazing Angels 2
Ace Combat 6
And of course Microsoft Flight Simulator


LUMPY SICK

full member




Posts

: 422


Join date

: 2011-10-31



i prefer to use the controller as youll have to keep changing controllers over everytime you want to fly

Berty1977

Admin





Posts

: 824


Join date

: 2011-10-30


Location

: Leominster, Herefordshire



Yea that's what I was thinking bert.my trouble is when I get into a chopper it tends to go to one side.i can not keep it upright. This is some thing that ism going to master during the next 2 weeks I have got off work

The only problem at the moment is that I will not use a chopper during live game play only for me to crash it .was they a option in bad company 2 to practices and are the choppers the same BF3 to fly






LUMPY SICK

full member




Posts

: 422


Join date

: 2011-10-31



"i believe i can fly....." Sadly i can't do it vey well. Jets i can keep up now, but find it hard to turn left, maybe because im right handed lol. Choopers thats another story just cant seem to fly them, imo there alot harder that bfbc2 as there's more control over the movement of them.
Going back to the Joystick, i think you should get it if it helps

, as i remember the other week when i got into that chooper and we flew straight off the edge of that carrier into the water


Though seriously i dont think it's worth it unless you want to get better in the choppers etc. Just my 2p worth

novahob

full member




Posts

: 173


Join date

: 2011-12-23


Location

: Leicestershire



I hopefully will get so
E practice.when we can rent servers. It's so
Etching I want to master in the next 2 weeks

LUMPY SICK

full member




Posts

: 422


Join date

: 2011-10-31



---
Permissions in this forum:
You
cannot
reply to topics in this forum